Booking Details for CatMaster Tours
NEW OWNER - Paul Duhig
Booking your tour with us & General Inquiries
UK Office Tel. (+44) 07931 998675
Email:  paul@catmastertours.com
Postal address for booking forms etc.
Paul Duhig,
54 Cherwell Drive,
Chelmsford,
Essex,
CM1 2JL
UK
Bank details for payments
Paul Duhig
Branch : Halifax, Chelmsford, Essex, UK
Account No.; 01201337
Sort code; 11-01-66
IBAN : GB24 HLFX 1101 6601 2013 37
BIC : HLFXGB21E28
Enquiries
For booking information and enquires please contact Paul or Clare
Tel. (+44) 07931 998675
Mobile. 07931 998675
Email: paul@catmastertours.com or clare@catmastertours.com


Office hours
08:00AM - 22:00PM
7 Days a week
Important - Booking Information:
To make a booking with us, first check with us that your chosen dates are available. Then we will require a completed booking form which can be printed from our web site or emailed to you on request, a copy of each anglers passport so we can obtain your fishing licences and your deposit by either cheque made payable to Paul Duhig or by bank transfer. Our bank details can be found above. All anglers addresses are required on the booking form to be able to process their fishing licences. Your flight details will also be needed if you require our FREE airport transfers. If flight details are not given to us we will assume you do not require airport transfers and that you will be making your own travel arrangements to us. We cannot guarantee free airport transfers if you do not inform us that you need them.
Important. We offer a free seat on a shuttle bus every Sunday from Barcelona (BCN) airport also called El Prat and we are there between 12.00pm and 2.00pm at our meeting place which is at the statue of a 'Black Horse' inside terminal 2B, so as long as you can arrive before 2.00pm and depart the following Sunday after 1.30pm, we can offer free transfers. Any flights that do not meet our pick up/drop off times cannot be offered a free seat on a shuttle bus. Alternative methods of getting to us if you arrive out of these times are hire car, train or taxi. We can book a taxi for you if required.
Please send all postal correspondence to our UK booking office in Essex.
Reserved places can only be saved for two to three weeks unless agreed otherwise while flights, booking form, passport copies and deposits are being arranged, after this time the places may be offered to other anglers.
Your Requirements
Although most things are supplied with CatMaster Tours, there are some essential items you will be required to bring along with you and some other items you may choose to bring with you.
These items are as follows:
Clothes (warm clothes for the months where there is a possibility it may be cold at night and lightweight waterproofs for the possibility of rain, toiletries, sun cream, mosquito repellent (mosquitos are not a big problem), fishing hand towels (for slimy hands), sun glasses, hat, European health insurance card (EHIC card obtainable free from your local post office), holiday insurance, passport, travel plug adapter, camera, video and batteries, terminal tackle if you want to fish for Carp or Zander. More and more anglers only bring their phones with them as a camera and are disappointed when their pictures are poor, especially at night time. Please bring a camera with you to record the huge fish that you will catch with CatMaster Tours.
Travel / health insurance is recommended and a head torch, camera and towels are essential.
Exchange Rates
In the interest of being "fair for everyone", exchange rates from holiday company Travel FX Ltd will be used to set the exchange rate on the day of arrival, as it's not fair for people who have hunted around to have to pay more than others.

No Hidden Costs
CatMaster Tours try to make our tour options as simple and as straight forward as possible for you. This is so you know what you are paying for and what you need to pay for once you are in Spain. Our catfish tour price includes all your catfish tackle, a professional fishing guide with a boat for his use, all fishing licenses and local tickets, accommodation, and free airport transfers if required. Things that are not included in the tour price are your food, drinks, bait and flights.  On our mixed carp/catfish tour and carp only tours we do not provide the carp terminal tackle or carp reels although we do have carp reels you can use at not extra cost. We have no hidden costs, guaranteed. We also offer a guarantee to catch on your first catfish trip with us. If you do not catch a catfish on a catfish tour we will offer you a return trip free of charge.
Please be aware when you are looking at all the fishing tour operators in Spain searching for the best deal that you choose a registered company as many are not and you will have no cover if you have any problems. You can easily check if a company is a legally registered company by checking the website from the town where they are based to see if they are listed as fishing or guiding companies (Guia de Pesca).
If they tell you they are not on any guiding registrar or it is not necessary. BEWARE!
Here are some of the add-ons by other companies to watch out for which you could be charged for, they offer a tempting price but once there, your final bill could double:
1) Cleaning apartments
2) Fuel for boats
3) Fishing licenses
4) Tackle hire and terminal tackle
5) Fishing guide
6) Airport transfers
7) Bait
Three points to look out for when you are deciding which company to choose.
1) The first and most important point to check for is if the company is registered and legal. There are many companies here that are not legal, leaving you open to fraud. To do this, all you need to do is check the website of the town the company is based to see if they are registered as a fishing/guiding company on their website. If they are not listed or tell you it is not necessary, please beware.
2) Many companies advertise a low tour price to encourage you to book with them. Once you are there they then stack on all the extras, even though they tell you there are no hidden costs or charges. Ask for the total price in writing before you book. Others offer a higher price so you think you must be getting a better service as you are paying more, unfortunately these are some of the worst companies to go with.
3) There are many instant guides on the river claiming to have been there for many years and claiming to have lots of experience. Check out their history if possible and look at their galleries on their website to see how many fish they have caught and to see if they are using other company's photos to promote their own company. There are also companies that have been operating for many years and to our amazement are still going even though their level of service is extremely poor.
If you have any concerns or questions about the tours on the Ebro, please call Paul on (0044)  07931 998675 and he will be totally honest with you in every respect, even if it means the tour are not suitable for you.

Frequently Asked Questions
Q: When is the best time to go?
A: When the weather conditions suit you best, as we catch plenty of Catfish from March until November.
Q: When can I catch the most Catfish?
A: June to October are the best months to fish as the weather is most stable.
Q: When is the best chance to catch a 200 lb+ Catfish?
A: We have caught 200 lb+ Catfish in every month except for January, But the best times are March/April and September to November.
Q: How much bait will I use?
A: On a catfish tour approximately €100-€150, a mixed tour €50-€80, a carp tour €15-€50 depending on baiting methods.
Q: What group size will we be in?
A: Fishing for Catfish we have group sizes from 4 to 6 anglers per guide normally. Smaller groups will be teamed up with others to make one group. Carp fishing can be any size group that suits yourself.
Q: Can we fish as a group of 2 or 3 on our own and not in a larger group?
A: Smaller groups can fish on their own but will be close to another similar size group so each group can help each other as it takes a minimum of 4 people to be able to lift the catfish safely from the water and extra hands are needed when photographing the fish etc.
Q: Which airport do you offer FREE transfers from?
A: We provide transfers every Sunday from Barcelona (BCN) airport also called El Prat.
Q: What time to we need to be at the airport for the FREE transfers?
A: We are at Barcelona airport between 12.00pm and 2.00pm every Sunday so as long as you can arrive before 2.00pm and depart the following Sunday after 1.30pm you will be eligible for our transfers.
Q: Where do we meet you at the airport?
A: We meet at about 1.00pm at a statue of a Black Horse inside terminal T2-B.
Q: What if we cant get to the airport for your FREE transfer service?
A: Other options are to arrive a day early and spend the day in Barcelona, we can arrange a Taxi for you, catch a train to Lleida and we can pick you up from there or get a hire car and drive to us.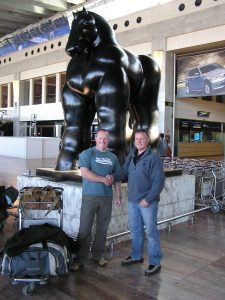 The meeting place at Barcelona airport on Sundays.

Free Seat on Shuttle Bus Every Sunday

We offer you a FREE airport pick-up/drop-off service from Barcelona(BCN) El Prat airport each Sunday between 12:00pm and 2:00pm by one of our guides in our shuttle bus. As long as you can arrive before 2.00pm and depart the following Sunday after 1.30pm, we can offer free transfers. Seat belts should be worn at all times for your safety whilst in the vehicles and you are advised you take out personal travel insurance. Any flights booked out of these times will not be eligible for our free service and it will be your responsibility to arrange transportation to us. The meeting place at Barcelona airport is at the statue of the black horse, inside terminal T2-B. If you arrive at terminal T1 you will need to catch the Aerobus to get to terminal T2-B. These buses run every 5 minutes and are a free service. You are then driven the two hour scenic journey to your destination – Mequinenza, taking a short break half way for refreshments.
Once there, you will be shown some of the town's amenities and the surrounding area before being taken to your apartments where you can unpack and freshen up and prepare for your fishing trip. All flights booked for our free pickup service must be to Barcelona (BCN) Airport and arranged for convenient pickup times for our free airport pickup service. Arrival and departure times must be arranged with the consideration of our pickup times between 12:00pm – 2:00pm, Sunday to Sunday. For your return flight, please allow for travel time from Mequinenza to Barcelona approx 2 hours and either 1 or 2 hours check in time recommended by your chosen airline. We normally leave Mequinenza for the airport at 10:00am on Sunday morning. Flight costs will vary according to the time of the year and holiday periods.
CatMaster Tours can assist you in obtaining flights by giving you a contact number of a fully bonded ATOL holder who will be happy to arrange your flights for you to coincide with CatMaster Tours pickup times. Please note that we do not take payment for flights ourselves, however by ensuring that you are booking with an ATOL holder you can rest assured that your flights are financially protected. Alternatively, you can book your own flights via the internet or travel companies, but before you confirm your flight booking, please check with us that the times and dates are correct and still available to avoid complications later.

Guarantee to Catch

CatMaster Tours guarantee to catch you Catfish on your first trip with us. If you are unlucky enough to return home without catching any Catfish, which is extremely unlikely, we will offer you a return trip FREE of charge except for your travel expenses, food, drinks and bait for the dates of your choice within one year from the date of your trips providing we can accommodate you on your chosen dates.
To qualify for a free trip if you don't catch, we do expect you to fish sufficient hours and the most productive hours at the time of your tour with us, which you will be advised of by your fishing guide. This is only valid on our 'full week' catfish tour and not on shorter trips or mixed catfish and carp tours. (It is extremely unlikely that you will not catch with us, in fact almost everyone every year catches Catfish over the magical 100lb with us.)
For booking information and enquires please contact Paul or Clare
Tel. (+44) 07931 998675
Mobile. 07931 998675
Email: paul@catmastertours.com or clare@catmastertours.com
Paul Duhig,
54 Cherwell Drive,
Chelmsford,
Essex,
CM1 2JL
UK
Office hours
08:00AM - 22:00PM
7 Days a week