We have boats for hire permanently in the river ready to go when available for experienced Carp or Catfish anglers or those anglers wishing to just go off and explore hidden unfished areas of the river where there may be a monster fish lurking, waiting to be caught. It is law that you must not go closer than 400m from the Dam for safety reasons. Our boats are made of fiberglass, double skinned and are 4 meters long with 15hp Yamaha four stroke engines, very quiet, reliable, easy starters and very stable in the water, ideal for 2 anglers. We do not use Aluminium boats as these get very hot in the sun and can burn you when you touch them in the summer months. Life jackets are supplied and all documents and insurances and 1 tank of fuel when booked for one week. Fuel used on our day rate must be replaced.
Boats can be booked in advance when booking your tour with us or ordered on the day if available.
Important Information
If you are going to bring a boat of your own for DIY anglers, the boat needs to be registered with a "CHE" number before it can be entered in to the river. This normally takes about three months to obtain. Using a boat on the river without a CHE number will lead to problems with the police and fishing bailiffs and you can incur heavy fines and occasionally confiscation of your boat.
Hire Motor boats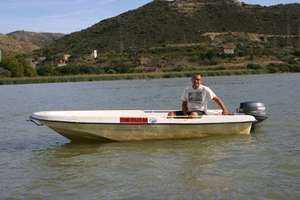 These motorboats are suitable for 2 anglers.
€50 per day or €250 per week    (Deposit of €100 required)

Hire Inflatable Dinghy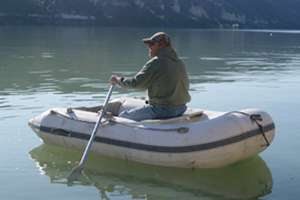 These inflatables are great for baiting up when carp fishing and reaching those areas with hook baits that are out of casting range.
€100 per week
Hummingbird fish finder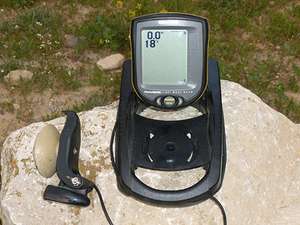 Rent a Hummingbird fish finder for €50 per week.
Guided boat fishing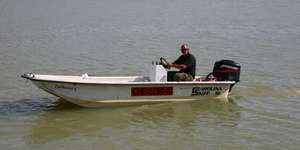 Guided boat fishing can be booked on a daily rate when we have a spare guide available fishing for Catfish, Carp, Zander, Perch or Black Bass. Clonking, trolling, lure fishing, drifting etc. for Catfish or lure fishing, jigging, drop-shotting etc. for Zander, Perch and Bass.
€100 per day with a guide plus fuel.